2023-10-14 Annular Solar Eclipse
Created by Steven Baltakatei Sandoval on 2023-10-15T09:31+00 under a CC BY-SA 4.0 (🅭🅯🄎4.0) license and last updated on 2023-10-15T10:40+00.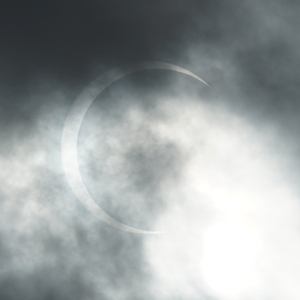 (Image © Steven Baltakatei Sandoval, 🅭🅯🄎4.0)
Summary
I took a photograph of the 2023-10-14 solar eclipse from Vancouver, Washington. I uploaded a copy to Wikimedia Commons here.
Background
I got lucky and managed to get just the right amount of cloudcover to take a photo without any special equipment besides my Sony a7 III with a 70-300mm telephoto lens.
I had known about the eclipse for a few days, having not really tracked it in my notes since it was not a total solar eclipse. However, some family members let me know it was happening and I noticed I wouldn't have to travel very far from my Vancouver, Washington, dwelling to see a significant occultation. I saw that it was scheduled to be viewable at my local morning around 2023-10-14T09:00-07. I prepared my eclipse glasses the night before.
So, when I woke up on the day of the eclipse, despite being somewhat disappointed at seeing an overcast sky, I went outside a few minutes before maximum occlusion. I found my roommates were already outside looking to the southeast at a bright spot in the clouds where the sun was. The morning clouds were clearing. I saw that some variation in cloudcover would allow me to see the eclipse without any glasses. I also saw that it was possible for me to use the cloud cover to take a photo with my camera. I quickly retrieved my camera and snapped a few photos when a dark cloud passed by. The result allowed me to clearly see the crescent shape of the partial solar eclipse.
I then downloaded my photos to a computer, cropped one of the better images, then uploaded it to my Mastodon account, Wikimedia Commons, and my website. Some commenters said the image looked like it could be an album cover; I told them anyone was free to use it under the CC BY-SA 4.0 license.
To be honest, there are many higher quality photographs than mine. In particular, I like this set by a Ross A. Whitley, taken from the San Jose Mission) in San Antonio, Texas.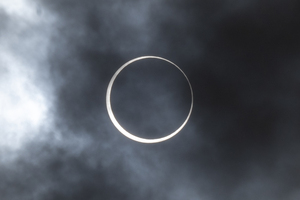 (Image © Ross A. Whitley, 🅭🅮1.0)
References